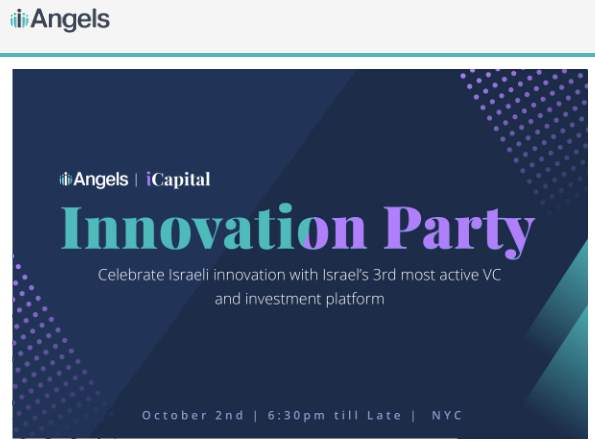 iAngels

, Israel's leading VC and Investment Platform
 is delighted to invite you to a party to celebrate cutting edge technology being developed in Israel.
Hear from some of the country's leading innovators and meet iAngels, Israel's 3rd most active VC and Investment Platform, responsible for uncovering and backing some of the region's strongest talent.
We're privileged to have iAngels Founding Partner, Mor Assia, lead discussions with some of Israel's top innovators who are creating disruptive technologies in the space of autonomous vehicles, real-estate tech, enterprise software and blockchain. 
Join for thought provoking discussion, great food and cocktails!
Date: Tuesday, October 2nd
Time: 6:30pm – 10:30pm
Location: Bleecker St, New York 10014
For more details and to RSVP, please click here
Israel has earned the title "Startup Nation" for good reason. The country produces more early stage investment opportunities than Silicon Valley, has generated approximately 10% of the world's Unicorns and is on track to raise a record $6B in VC capital in 2018 with deal flow increasing. Join us to hear more about this burgeoning ecosystem and register to the iAngelsinvestment platform to see live investment opportunities here.